Something You Need to Know Before Purchasing a Bathrobe
---
Bathrobes are one of the few personal products where necessity meets luxury. Aside from being very useful, bath robes give the extra benefit of bringing you a touch of extraordinary comfort that used to be possible only with hotel and spa robes. Today, spa and hotel bathrobes can be bought everywhere - including online. To ensure you get the best quality for the best value, you'll want to educate yourself before you buy.
First, it's important to note that not all bathrobes are created equal. That's why it's essential to do your homework - and we want to help you do just that. Many of our robes are available in both men's and women's sizes. Some, however, are unisex. We often have kids' bathrobes available as well as one-size-fits all, large bathrobes, and petite bathrobes. There are thick robes as well as lightweight robes. Finally, there are robes made of various materials including terry cloth and waffle weave. These robes are made of terry cotton and waffle fabric.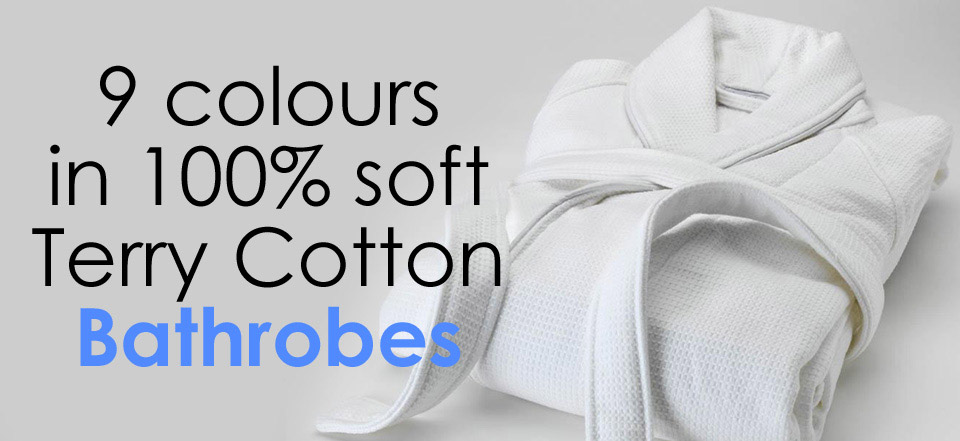 Type of Fabrics
Fabrics have a lot to do with what you can use the robe for and how it will make you feel when you wear it. The best fabrics are terry cloth and waffle weave. A terrycloth robe is thick and plush, while waffle weave is lighter and thinner. Cotton robes are best used for bathing purposes because their fabric can absorb water fast. Cotton, however, comes in many different forms. There are low, medium, and high grade cotton fabrics. It is best used for bath robes. Aside from terry cloth, waffle weave is also a popular option used in spa robes. The waffle weave is best used for purposes of covering up because they are lighter and are not very warm. The fabric of a bathrobe will also tell whether a robe is of high quality or not. If the fabric is of good quality, then you can feel confident that your robes are long-wear.
Styles of Bathrobes
There are many different styles of bathrobes including Kimono and Shawl collared. A shawl collar typically closes at the neck as if you're wrapping a shawl around you. Shawl collar robes will give you maximum warmth and coziness. Kimono robes offer a more classically tailored fit with wrist length sleeves and a streamlined flat collar. Kimono robes are popular spa robes because of the sleek fitted look and lightweight comfort. Hooded robes are for people who are looking for warmth. Hooded robes are great to pull over your wet hair after bathing or swimming. Plus, the hood will provide extra warmth around the neck and head area. Cuffed robes have a fold on the bottom of the sleeve. Most of our robes are designed or suitable for both men and women. These robes are often referred to as Unisex.