---
Picture this. You're sweating it up in your synthetics before you even reach the office. By midday, you're wishing for a change out of your sticky socks and underwear. And finally, on your way home, the 40-degree heat from the day is still lingering and your top is permanently stuck to your back...it's only natural we begin questioning how to keep cool in summer.
Bamboo is more than just a plant. Once the bamboo reaches maturity, the plant is turned into a pulp that is obtained by soaking it in a softening solution. The fibers extracted from this process are then turned into yarn to make the garments you know and love.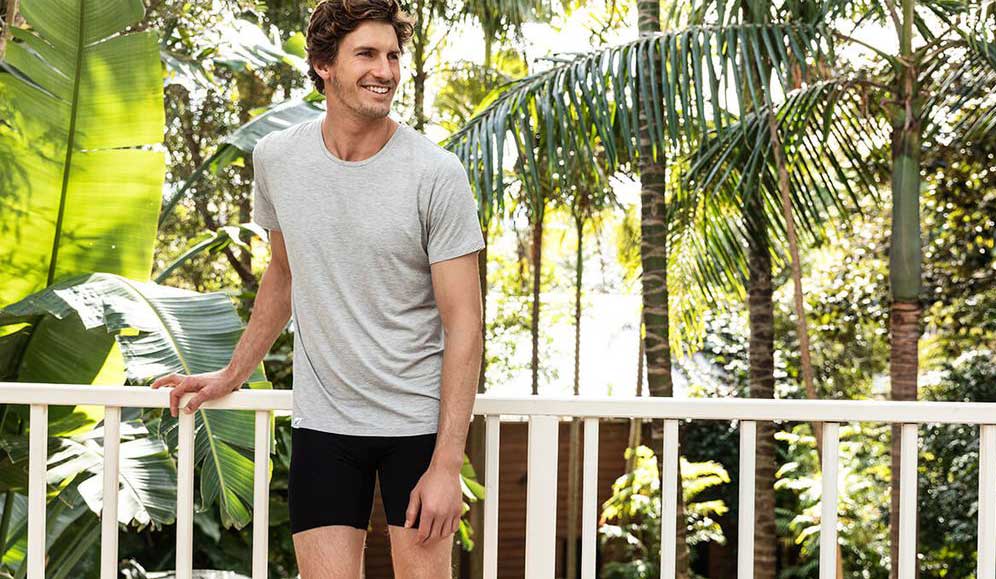 It's breathable and moisture wicking
Perfect for adventure lovers, the structure of the bamboo fibers means it's three to four times more absorbent than cotton. Bamboo contains "micro-gaps", which provide incredible ventilation and actually pull moisture away from the body. This means you can get your sweat on while staying comfortable.
It regulates your body temperature
Beyond being moisture-wicking, bamboo fabric has the ability to cool you off in the same way your body does when you sweat. Those"micro-gaps" actually trap the cool air to keep a cooling layer close to your skin.
It has anti-odor benefits
A core benefit of wearing bamboo clothing on hot days is that it'll help you manage unwanted body odors. The antibacterial properties in bamboo fabric fight bacteria, helping to keep your clothes smelling fresh. Wash after wash, your bamboo clothing will still retain its anti-bacterial and anti-fungal bioagent through the process of fabrication.
It's extra soft and non-irritating
If the hot weather isn't uncomfortable enough, wearing the wrong type of fabric can really upset your mood on a warm summer's day. That's why we chose bamboo for its light, luxuriously-soft and gentle feel on your skin.
For those prone to sensitive skin and eczema, summer can be a particularly hard time of year. But fear not, we've got you covered. Bamboo has naturally smooth fibers that limit skin irritation and make it a convenient, hypoallergenic alternative when the weather is hot.
---