---
We have a great selection of underwear from your favorite styles. We carry a wide selection of bras, panties, hosiery, sleepwear, socks, and more from all your favorite women's underwear brands!
We offer hundreds of different styles, fabrics, and colors of panties and we're adding new panty styles every day. You may want to choose a pair of panties to match your bra or you may be looking for sexy women's panties for a specific occasion. Maybe you are looking to prevent visible panty lines. Whether you're looking for a bikini, a pair of boy shorts, or a hipster/low-rise variety of a brief or thong, we offer hundreds of styles of women's underwear.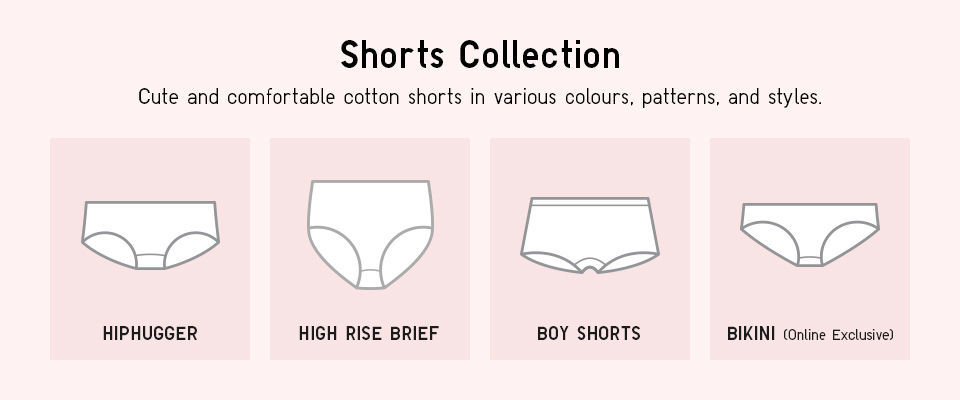 Bikini Underwear
One of the most popular styles of panties is the bikini. These are panties that offer more coverage than a thong, but less coverage than a brief. There are high cut and low cut bikini styles. The high cut bikini-style panties create a longer, sexier leg line. The low-rise cut panties are a perfect choice for today's low rider fashions.
Boy Shorts
The boy short trend has been on the up and up since they came onto the panties scene. Boy shorts have become a popular choice as panties for everyday wear, athletic activities or as loungewear and sleepwear. Boy shorts offer more coverage than traditional panties or briefs, plus they have a sporty look. Thinner, lightweight fabrics sit totally flat against your body to minimize the lines that can be seen when you wear other types of panties. There are also sexy boy shorts that offer flirty full-coverage and are trimmed in ornate stretch lace.
Seamless Panties
Seamless panties have a smooth look under clothing and are ideal for today's tighter fashions. Though most parties that advertise themselves as being without seams are not, in fact, seamless, they are in the areas where it counts. For example, seamless women's panties will be created on a circular loom so it has no seams around the sides for a perfectly smooth look under tight clothing. The construction of most of this type of panties is Modal, Nylon, Spandex, and Cotton. Seamless women's panties come in many styles – thong, bikini, high cut thong, high cut bikini, and the ever-popular boy short. Choose whatever style of panties you are most comfortable in for a seam-free look.
We offer the widest selection of women's panties, thongs, athletic panties and women's underwear from the top quality in every size and style. Browse our Website: ubestunderwear.com
---