If you have been looking for comfortable cotton bed sheets, you have come to the right place. Having soft bedding is one of the best things you can do to help get better sleep and feel more rested in the morning. As you probably know by now, finding that perfect set can be a bit challenging due to the sheer volume of different fabric types available. If you aren't sure what sets to get, but you know you want cotton, we have honed in on a few of the comfiest sheets out there, so you have fewer options to look through and can more quickly find one that works for you. Ahead, we've highlighted nine of the best cotton sheets on the market in a range of price points, so there's truly something for everyone.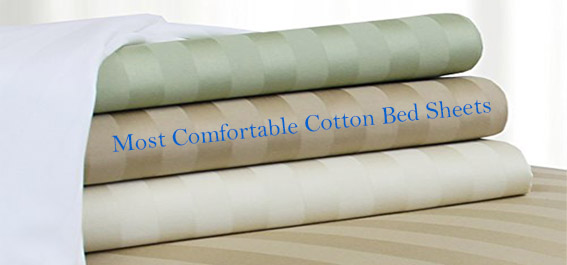 Brooklinen Luxe Core Set
The Brooklinen Luxe Core Set is a little pricey, but a lot of people find these to be one of their favorite bedding purchases. Brooklinen has a few different cotton options, with the Luxe Core being one of their most popular. These sheets are comfortable, cozy, and are excellent quality. Fans of Brooklinen love the Core Luxe Set because of the pleasant feel of the fabric that always feels crisp, clean, and cool to the touch. Also, they come in tons of beautiful colors and patterns. Most people find that they fit well and love the tags on the fitted sheet that say "long side" and "short side,".
Threshold's Performance Sheet Set Solids 400 Thread Count
Threshold's Performance Sheet Set Solids 400 Thread Count that you can find at Target are a popular pick that comes in a wide variety of colors. They are affordably priced and feel soft, cool, and comfy to sleep on. The fitted design has elastic around the entire perimeter of the fabric, which is a nice touch to ensure it doesn't slip off. This set can work well for year-round use, depending on where you live and your preferences about how warm you like your bedding to be.
L.L.Bean 280-Thread-Count Pima Cotton Percale Sheet
Everyone loves these 280-Thread-Count Pima Cotton Percale Sheets from L.L.Bean. Since they have a percale weave, they have that crisp, clean feeling that a lot of people associate with hotel bedding. They are also generally regarded as being thick, smooth, and soft. Not only do they feel great, but the fabric wears exceptionally well and is very comfortable for most families.
Nordstrom at Home 400 Thread Count Organic Cotton Sateen Set
The Nordstrom at Home 400 Thread Count Organic Cotton Sateen Set is made from a cooling fabric that works well for hot sleepers. Sateen is a type of weave that usually has a glossy luster that is very smooth and silky to the touch, making them popular with those who are looking for a silkier material. The softest designs are often made of sateen, although some people found this set not to be as smooth as they had hoped until after it had gone through multiple washes. This pick is known for being quite thick, luxurious, and good quality.
Charter Club Damask Stripe Sheets, 550 Thread Count 100% Supima Cotton
The Charter Club Damask Stripe Sheets that you can find at Macy's are 100% Supima cotton is not only super soft, but they come in a great selection of colors, and the stripe gives them a luxurious touch. They are good quality, well made, and most people find them to be a good buy overall. The material doesn't wrinkle much, and they wash very well.
Snowe Percale Sheet Set
The Percale Set from Snowe is a luxurious set that is made from a 500 thread count, Italian milled percale that is crisp, and incredibly smooth. These sheets are perfect for warmer weather or for sleeping cooler as they are lightweight, breathable, and fresh. People also love that they are appropriately sized for thick mattresses and come in beautiful colors. If you are looking for an option that is cool and crisp, these may be a good pick for you.
AmazonBasics Heather Jersey Set
The AmazonBasics Heather Jersey Set is 100% cotton made from a Jersey weave. Jersey knit is the type of fabric that feels like a soft, comfortable T-shirt. Jersey tends to have a shorter life span than other types of weaves, but it can also be some of the softest fabric going. This AmazonBasics set is a popular, inexpensive pick that is a great product to check out if you haven't tried jersey knit before. Overall these sheets are comfy, soft and flexible, and generally have pretty good reviews.
Wamsutta 625-Thread Count PimaCott Sheet Set
The Wamsutta 625-Thread Count PimaCott Sheets are one of Bed Bath and Beyond most popular cotton sets. They are known for being luxurious, soft, yet strong, and well constructed. The PimaCott is softer, more durable than regular cotton. The fitted sheet is entirely lined with elastic and not just the edges, which is an excellent feature to have if you have trouble with bedding staying on properly. It is also marked top and sides so you know where to put, which can be one of the most challenging aspects of dealing with fitted sheets. If you are looking for a high-quality set that feels soft and comfortable, this is a good one to check out.
400-Thread-Count 100% Cotton Sheet Set
This 400-Thread-Count Sheet Pure White Set is another popular pick that you can find on Amazon. It is made from breathable long-staple cotton fiber and has a sateen weave. This is another pick that works well for year-round use since they are light and fresh for the summer, and warm and smooth in the winter. Reviewers note that they are soft, smooth, and silky and wash and wear well.