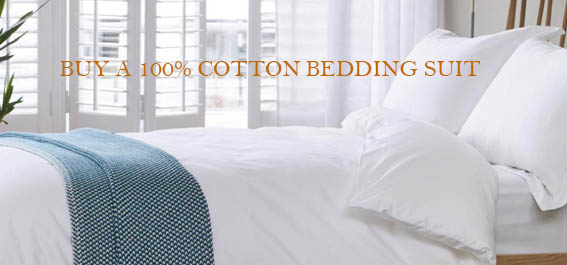 What to Look For:
Buying sheets can be a difficult process. Here are a few things to keep in mind when you are shopping for 100% cotton sets:
Thread Count– Everyone has an opinion on thread count. The best thread count will typically be between 200 and 800 depending on the specific qualities you prefer your bedding to have. Generally, the higher the thread count, the softer they will be. Once you go above 800 thread counts, the number means less. Some people feel that good cotton fabric must have a thread count of over 1000, but the very high thread counts tend to be less durable and can rip and wear out a lot quicker. You need to be a little bit careful with thread count and shouldn't rely on to indicate strength, quality, or durability since it is a very easily manipulated number. Thread count is determined by the number of threads that run vertically and horizontally for each square inch of the fabric. The more threads the softer the sheets will feel.
Types of Cotton- Cotton is the most popular choice for bedding, but it has its pros and cons. It is breathable, doesn't hold odor as other fabrics can, and is usually affordable. On the downside basic, 100% cotton usually wrinkles easily. Some of the different types include:
Combed cotton is exceptionally soft, smooth, and feels great to the touch.
Supima – Pima or Supima is a durable high quality, long fiber cotton that is produced in the southwest United States and has a very soft feel to it.
Egyptian is generally considered to be the best cotton as the fibers are soft and yet durable. The longer fibers in Egyptian cotton make it easier to have a higher thread count and also make the fabric stronger.
Weave- The weave is what creates the texture, look, durability, and feel of the sheets. The weave is produced by the interlacing of the threads with each other. There are a few different types of weaves with the most common for cotton being percale (known for being crisp.), sateen (known for being slightly silky and smooth), and jersey knit (feels like a T-shirt).
Fit– Mattresses come in all sizes and thicknesses. It is essential to know what size your mattress is so you can get the right sheets; it is never fun to wake up in the middle of the night because your fitted sheet has come loose. To get the right size, you need to measure from the head of the mattress to the foot and then from one side to the other. It is also a good idea to measure the width of your mattress since the biggest complaint about sheets is that they don't fit over the ends of the mattress and pull off during sleep.