---
Besides adding a decorative touch to the home, rugs increase comfort, reduce noise, and even protect current flooring.
What Size Rug Should You Buy?
The rug's location will determine the rug's size so measure the intended space before buying. Area rugs create the most impact when they are a focal point i.e., in front of a sofa or seating area. Area rugs placed under furniture should be at least 1 foot smaller on all sides than the room in which they are located, and 1 to 4 feet larger than the furniture they are beneath.
Accent rugs are smaller than area rugs and as their name implies, accentuate an area, not overwhelm it. Entryway rugs should be at least as wide as the doorway to prevent tripping. Runners are great for adding warmth to long, narrow entryways and hallways — just make sure they are long enough to cover the pathway.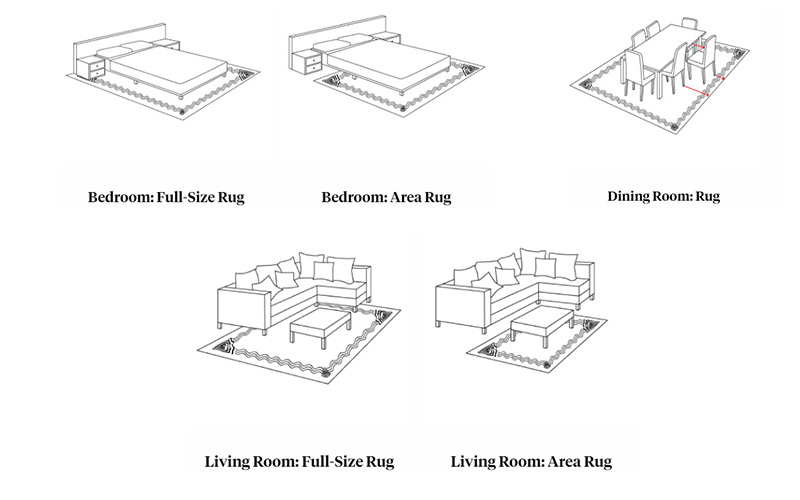 Bedroom: Full-Size Rug
One preference is the look of a full-sized rug that fits under the night tables and entire bed and extends several feet out in all directions. Bigger rugs have the effect of making the room appear larger.
Bedroom: Area Rug
The second option is to select an area rug that is placed under the bed (extending several feet out on 3 sides) to define the sleeping space.
Living Room: Full-Size Rug
A popular placement for an open-plan living room area is to have the front legs of the furniture on the rug with the back legs on the floor. This creates a cozy space and will add some proportion to your living room.
Living Room: Area Rug
Choose a smaller-sized area rug such as a 5'x 8' if you prefer to keep your furniture off the rug. The coffee table should fit in the center of the rug, with no legs on the floor.
Dining Room: Rug
A rug under a dining room table should be large enough to pull out chairs. Determine the space needed to completely pull out a chair, to ensure the chair legs don't get caught on the end of the rug.
---